Use and Care Instructions:


Use: Comfort Crawl Gloves are designed for the protection of the hands and forearms while crawling under a building or on hard surfaces. They have also been found useful for tow truck drivers, insulation installers, termite inspectors, foundation contractors, handling wild cats, gardening, trimming roses and pit crews. They are not designed for and should not be used for welding or electrical work since the man made materials can melt and cause burns.

Do not use these gloves while working with any moving equipment or machinery. While crawling under a house, keeping the forearms in an upward angle will help keep dirt out of the gloves. Remove the gloves just as you exit the crawlspace but before you push yourself upward. That will keep any dirt from falling downward inside the forearm area.

Contact us for instructions on cutting the inside of the fingers for an opening that allows easy use of a camera without removing the gloves. Detailed instructions will be posted soon.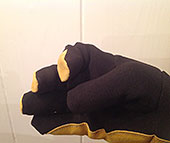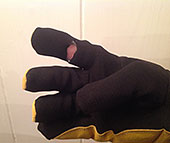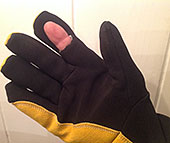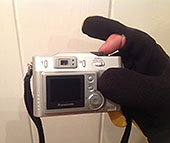 Care: If gloves become wet, allow to air dry and brush dirt off the gloves or wipe with a damp cloth. These gloves are not designed for work in constant wet areas. Any chemical contact may damage or deteriorate the material or stitching. Due to the heavy leather components and padding, they should not be cleaned in a washing machine or submerged in water. If for some reason the gloves need to be fully cleaned, use a professional leather cleaning service.